NWA 10142 (lunar)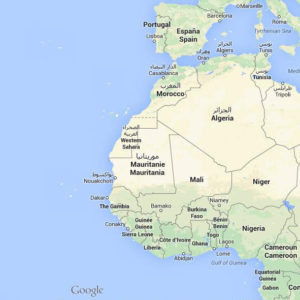 North West Africa, Algeria
Find, 2014
Lunar (feldspathic breccia)
A fragment which is 70% covered with light colored sand plasted crust .
Size: 4,3 x 3,6 x 2,8 cm
History:
A single piece was found in 2014 in Algeria. The piece was transported to Mauritania and from there to Morocco. The piece was purchaced from Rachid Chaoui, a Moroccon meteorite dealer on the January 2015. Meteorite was send on the February 2015 to Karl Morizt for cutting an analysis piece. The piece was send for analysis to Carl Agee a professor of Earth and Planetary Sciences in the University of New Mexico.
Physical characteristics:
Single stone. A saw cut reveals a feldspathic breccia with dark-gray shock melt veins.
Petrography:
(C. Agee, UNM) This meteorite is dominated by feldspathic-rich domains of fine-grained crystals and larger plagioclase fragments. Abundant shock melt veins are present, some with vesicles. Accessory troilite and ilmenite were observed.
Geochemistry:
(C. Agee and N. Muttik, UNM) olivine Fa21.3±3.6, Fe/Mn=105±5, n=2; pigeonite Fs25.5±7.9Wo12.0±1.6, Fe/Mn=57±6, n=2; augite Fs17.6±4.7Wo43.2±1.5, Fe/Mn=49±15, low Ca pyroxene Fs51.3Wo2.2, Fe/Mn=63, n=1; plagioclase An96.5±0.4Ab3.3±0.4Or0.2±0.0, n=6; Shock melt (20 μm defocused electron beam, proxy for bulk meteorite composition): SiO2=43.6±0.5, TiO2=0.18±0.07, Al2O3=31.8±2.2, Cr2O3=0.06±0.04, MgO=3.3±1.7, FeO=3.0±1.3, MnO=0.04±0.02, CaO=17.3±0.5, NiO=0.01±0.01, Na2O=0.33±0.03, K2O=0.06±0.02 (all wt%), Fe/Mn=88±62, Mg#=64±7, MgO+FeO=6.3±2.9 (wt%), n=23.
Classification:
Lunar (feldspathic breccia)
Specimens:
20.5 g including a probe mount on deposit at UNM, Jarkko Kettunen holds the main mass.
References:
Meteoritical Bulletin Database
«
Mreira
Orimattila

»
---
Jarkko Kettunen Meteorite Collection © 2023