Mount Dooling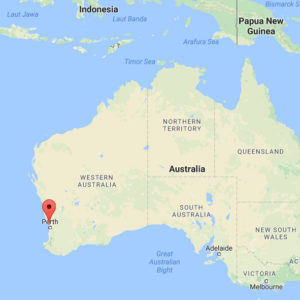 North Yagorn, Western Australia
Find, 1909
Iron, IC
Complete slice 835g
History:
A mass of about 31.5 kg was found in 1909 by A.P. Brophy when he was prospecting for gold 8 km east of Mount Dooling and near Lake Giles. The whole mass and two fragments, broken off by Brophy and totaling about 500 g, were acquired by the Geological Survey of Western Australia where they were described with photomacrographs and an analysis by Simpson (1912). A brief review of the literature and analyses was given, with two figures, by McCall & de Laeter (1965). The Mount Dooling case has recently been reexamined by De Laeter et al. (1972) on occasion of finding a 1.5 kg Gosnell's Iron in 1960. Although separated from the original finding place by 400 km, the authors convincingly demonstrated, with analytical and structural data, that the new fragment belongs to Mount Dooling, but at an unknown occasion was broken from it and was transported almost to the coast-town of Perth.
Mount Dooling appears to be a coarse octahedrite with a primary structure similar to that of Union County, Seeliisgen or Sikhote-Alin. In its chemical composition it is anomalous, but slightly related to both groups I and liB. It is interesting because of its well-developed shock effects and the associated recovery and recrystallization.
– Buchwald, Vagn F. (1975) Handbook of Iron Meteorites. University of California Press
Specimen Description:
A complete slice, cut from bigger mass. Bought from Ruben Garcia.
References:
Metbull data base
Buchwald, Vagn F. (1975) Handbook of Iron Meteorites. University of California Press
---
Jarkko Kettunen Meteorite Collection © 2023