Valkeala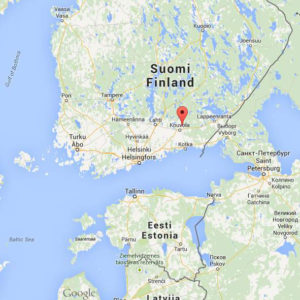 Kymi, Finland
Find, 1962
Chondrite L6
Complete specimen 120 g
Size: 6,0 x 4,0 x 3,6 cm
Remarks: Ex finders piece
History:
In May of 1962 Olavi Vaija found a rusted stone from his fields. He had read instructions for ore finders from paper and went through the stone piles next to his fields. There he found a second stone. Vaija sent these stones to the Outokumpu mining company. They were first declared as an ore boulders. Later mineralogist Yrjö Vuorelainen identified them as a meteorites. Unfortunately one of the pieces were pulverized before that. Later Olavi Vaija found a couple of more stones. These stones weighted together with the pulverized piece about 700g. One of the pieces was a complite specimen so it was proper to expect that Valkeala meteorite was a meteorite shower and probably there is still more pieces in that area. Because of strong rusting Valkeala meteorites have fallen probably hundreds of years ago. So far about ten stones have been recovered making the total mass around 4 kg of weight.
Pieces of Valkeala meteorite, Picture: B. Wiik
Specimen Description:
This specimen is the finders piece. It was bought from the finder Olavi Vaija by a Kari Kiurunen. Kari Kiurunen is a rock specialist, who polish up precious stones and owns a couple of mines. He seems to know everyting about spectrolites and have a lot of great stories. This piece of Valkeala meteorite is purhaced from him. He told that Vaija had a couple of more stones and he made cufflinks out of one piece for himshelf and gave atleast one to his children.
This is a complete piece with rusted fusion crust. The piece comes with a copy of the letter from Professor B.Wiik to Mr Vaija.
The translation of the letter from Professor B.Wiik to finder of the Valkeala meteorite Mr Vaija:
Geological department
Otaniemi January 9. 1964
Farmer Olavi Vaija
Anttilan kylä
Valkeala
Dear Mr Vaija:
Thank You for the kindness that I received from You during my visit. I have now properly researched the "Valkeala" meteorite. My friend professor Mason from New York have done the optical research and I have done the chemical research. The chemical composition does not differ much from the normal chemical compositions of stone meteorites. Iron 21.22%, nickel 1.01%, sulfur 2.29% and so on. but in any case "Valkeala" is a novelty. It´s iron content is 2.9% (rest is oxides). Normaly metal part is 8%. In the world there is a couple of this kind of pieces, but in Finland this is the first. You made a big service to the science when You gave this material to us. Thank You also for the piece that You send via Outokumpu to us. It was unfortunately pulverized in Outokumpu. As a whole piece it would have been more useful to us. Anyway it was a part of the meteorite and I have now the powder here. If You find more I am always grateful if You send them to me for examination.
Our chief director has granted You a recreation reward (250 new Finnish marks) for Your good work and your familys exceptional observations. It will arrive to You via post in the near future. (The address that was given to the cash desk is: Kouvola, Anttilan kylä. Is that right?)
I think I will visit You during may or June on my mission that will take me to Salla. In Salla farmer Kauko Piisilä has probably found 3 kg meteorite last summer and he probably have now more pieces. He will also receive 250 marks in these days.
With gratitude,
Yours H. B. Wiik
---
Jarkko Kettunen Meteorite Collection © 2023